Joli´s one of a kind jewellery
English
The Uniqueness of my Jewellery
Every piece of my jewellery is one of a kind. It is not one-of-a-kind because it is handmade and therefore slightly different from the other pieces, no, every piece is unique like the different paintings of an artist. I manufacture for direct sale as well as I create jewellery especially for one particular person. Mostly the idea for a new piece of jewellery comes out of the blue. And it is my art and craft to transform this idea into an integral whole and to emboss it on a little piece of metal. To create my ideas I am using techniques (which?) have been used in ancient world like chasing and driving. With these techniques jewellery was created in ancient Egypt and many other things like the famous death mask of Tut-Ench-Amun. But of course I am using also other techniques like brazing of thin metal sheets in layers. Much patience is required for these techniques, even a small pendant needs many many blows of the hammer. This way a bare flat piece of silver slowly and carefully takes shape, develops into wonderful works of art which bear lots of positiv energy. So far for over 30 years, every piece of jewellery is an exciting challenge for me. Only one of a kind jewelleries bear this spirit!
Every piece has its specific features and its difficulties, which I have to face. When manufacturing it, every piece of jewellery experiences its own special history. I learn and grow with each piece of art, and I would like to thank all the people who buy them and let me live their delight and their pleasure with me. They make it possible for me to live my art and my life the way I do.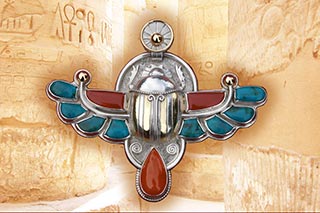 How is my jewelry made
There is a photo sequence where you can watch how Joli-jewelry is made. Details are shown here.
Metal and Precious Stones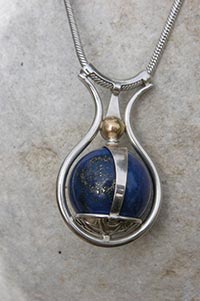 Every piece of my jewelry consists of 925 Silver. Silver is the metal of the moon, to whom I feel related with and which surely contributes her share to my work. From time immemorial the gleaming metal is known as remedy. If you wear silver jewelry your body is cleared and gets rid of bacteria. The silver I use is elastic, robust and very solid. Durability is a feature of my jewellery I attach great importance to. Rings, bracelets or pendants - every piece is manufactured in a way, that it can be worn permanently for years. The precious stones are fitted into precisely manufactured settings without glue what makes it impossible to loose them. I like to use gold (gold content 750) as spots of colour on silver. The thin gold sheet (0,3-0,4 mm thickness) is soldered on the silver. The precious stones I use are of great importance. They are sources of power and energy within the jewelry. I often use stones I found and polished myself what means additional handwork and uniqueness within the jewelry. When choosing the stones I rely on my intuition.
A joint Project
My wife Mali and I have a joint project. She arranges by consulting the pendulum wonderful necklaces and earrings from different precious stones and handmade silver beads. I manufacture a silver one-of-a-kind specimen for every necklace which harmonize with the used stones. The results are very unique necklaces. Mali´s unique jewelries could be marveled at this link.
I also manufacture aroma lamps. The lamps which are made from sheet brass and brass wire are my masterpieces. They are an expression of my experience, my skills and my patience. Some of them are shown in the menu "aroma lamps"